For our Tourism Product and Experience Design course, we got a task to develop services for various rural places related to the Echoes Ecomuseum project. Our group got to work with Kauppilan umpipiha in Laitila. This place was completely unknown to us before the course – both for the Finnish and the Erasmus students in our group.
When we got to Kauppilan umpipiha, we discovered a mill, sheep, red barns, an interior court as well as a museum (which we unfortunately could not visit because it was already closed after summer).
Once there, we remembered our teacher's advice and took the time to feel the sense of place. We sat down in the grass and let our senses guide us. We could hear the sheep and the wind in the foliage and the birds singing. We could also smell the old wood and grass. It was at this point that we began to realize the potential of this place!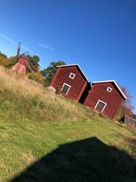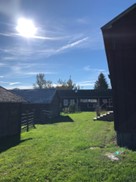 Back at SAMK, and during the meetings with our group, ideas on how to develop the place quickly came to mind. We brainstormed for a long time to put all our ideas together and came up with three main ideas:
make an educational farm for children
renovate the museum part of the farm, and
create a traditional festival on the farm grounds.

Eventually, we decided to concentrate more on a detailed planning of a festival that could be organized in Kauppilan umpipiha. The theme of the festival would be Return to the past. This theme would allow visitors to immerse themselves in the life of the 17th century. As soon as you would enter the festival, you would disconnect from the modern world and enter a very unique experience. In this festival, visitors could walk between the stalls of local craftsmen, dance and sing to traditional songs and have fun with typical Finnish games. Children could play with animals, get a face painting, or milk a cow. All these activities are small examples, but there would be many more to come. We also planned a drive-in cinema, which could attract many types of visitors.
Creating this experience as our course assignment was very exciting for us, and we were able to let our imagination run wild without too many constraints. We felt really free in our ideas!
Text: Marie-Amandine Moulin & Camille De Borman, exchange students from Haute École Galilée University of Applied Sciences in Belgium
Pics: Marie-Amandine Moulin