I am doing my internship in Istanbul for five months in Bilgi University's International Student Advising Office. I study tourism myself, so it was clear for me that I want to do my practical training abroad: it is very important for me in the future as in my study field international experience is valuable.
I was originally planning to do my internship at a hotel in Budapest, but my plan got cancelled due to Covid-19 pandemic. Then I started to search for a new place, and I found this internship position in Istanbul. I applied for it, got an invitation to interview and then got accepted. I felt very lucky to finally have a place to do my internship.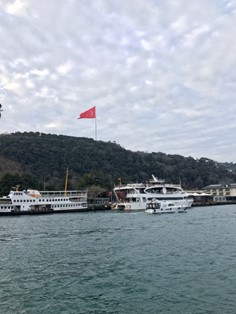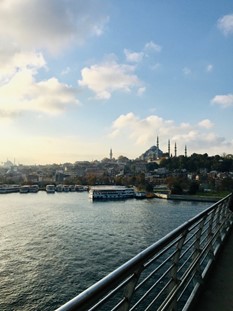 Istanbul is in Turkey, and it is the biggest city in the country but not the capital. The interesting thing about Istanbul is that it is located in two continents: Europe and Asia. So, the western part of the city belongs to Europe and the eastern side to Asia. The population of Istanbul is about 15 million people, and the main religion is Islam. They have prayer calls five times a day but after while I got used to it.
My internship is during the low touristic season, so it is not too crowded, which I like. It is better to visit sights and places when you don't have to wait in lines for hours. I think Istanbul is a good destination for internship because there is so much to see and do. Istanbul is a very historical city and has many historical places that also attract tourists. I feel like even five months is not enough for everything. Public transport is good in the city, and you can go to many places and all you need is Istanbulkart, which works for every means of transport.
I have also noticed that Istanbul is a very international city and I actually expected to face more cultural differences here. So far, I have liked living here, except the traffic jams. Living here is cheaper for me, so everything is quite affordable including rent.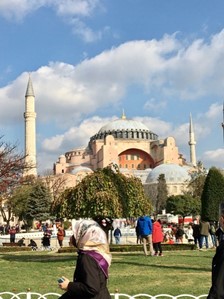 When I arrived in Turkey, it was a bit hectic because there were a lot of people around me. I have been to Turkey one time before, so it is not a completely new country but last time I travelled to a smaller city in south coast. While living here, there have not been that many Covid-19 restrictions and places have been normally open. Also, we have been able to work in the office, not from home.
My workplace, Bilgi University, is a private university. Recently the university has been ranked the third best in Turkey. It has three different campuses, but we work at the main campus. The office and team are quite small, but I like it because I get to know everyone better. In the team there are two permanent workers and a few interns. The office is having Erasmus interns all the time, usually two or three at the same time. The International Student Advising Office assist only international full-time students. Thus, they have Erasmus office separated. I work at the office's front desk with another intern and we mainly help the students who are coming to the office ask for advice. The job is nice, and I also get a lot of responsibility at the front desk. The working environment is very easygoing and I really like the atmosphere there.
My work tasks mostly consist of answering emails, advising international students, preparing residence permits and other documents. We also sometimes update social media. Working in an international environment develops my communication and language skills. Even though Turkey and this place may not have been my first choice, it has been an amazing experience so far and I would not change it!
Text and pictures: Annina Koskinen, fourth year student in the degree programme in Tourism